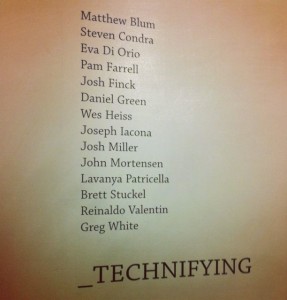 Revisions of two of my pieces, Frequency Ink and Audible Mesh, are on display at the new Soft Machine Gallery in Allentown, PA.  The work is part of the _TECHNIFYING show which "features work which incorporates technological elements/components and/or includes ideas about technology conceptually or visually."  I saw all the artists' work in the opening last night and there's a lot of really impressive pieces.  I was most impressed by the two pieces by Josh Fink, and the always amazing work one of my co-workers at Lehigh, Wes Heiss.
For my pieces I spent most of my efforts revising Frequency Ink, to create a more fluid, interactive experience.  I optimized the code to draw more efficiently and modified the software to run off-line from a XML file pulled from kuler's top 100 color selections from December 17, 2011 (the date of opening of the show).  The piece cycles colors every 15 seconds from the kuler color schemes, and draws visualizations based on the volume, frequency, and duration of audio captured in real-time in the gallery space.  The visualization is projected on a large wall-mounted three-dimensional surface.
As a new addition to the piece, I built a small Processing application that dynamically creates a time-lapse video from captures from the piece, which is shown on a video monitor displayed in the gallery.  The output is similar to to the video that I manually created (with After Effects) for a previous show, but it now works in real-time.  The advantage of the new application is that images can be dynamically added to the full-screen video, so as new shots of Frequency Ink are saved (happens every 30 seconds), they are automatically added to the time-lapse.  The images are looped at 30 frames per second, which creates a very fluid video which will run and expand during the course of the show.  Each image will represent a moment in time that captures not only the audio signature of the gallery at that moment, but also a combination of the color combinations submitted and voted upon by people all over the planet.
In a follow-up blog post I'll post some photos from the show, and eventually the complete time-lapse capture, at the completion of the show.  The exhibition is up from December 17 – January 18th @ Soft Machine Gallery- please check it out if you're in the area.