Here's what it did:
You enter two twitter usernames and it will generate a visualization of the user's followers.  Here I am comparing my followers to my friend (and talented designer- follow him!), Jarrett Fuller.  My data is on the left, Jarrett's is on the right.  From this you can quickly see that I follow a lot more people and most don't tweet very often- with a few exceptions.  Jarrett has a far more curated list, he follows about 1/3 the number of people that I do, and most tweet often but not excessively.  So, the Follower Data tab shows the way you consume information, whereas the Tweet Data tab shows how you use twitter communicate.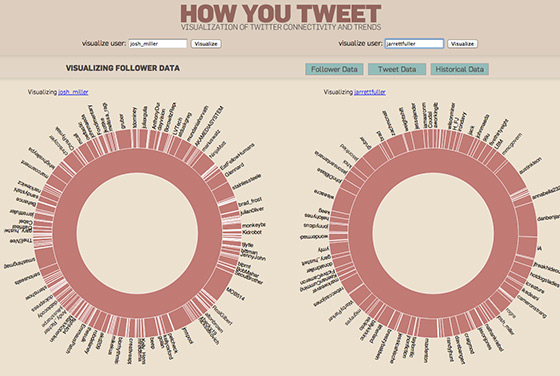 The following diagram is my data vs a friend who is a prolific retweeter.  He communicates by tweeting other people's data about the same amount of time he @ replies to someone.  I communicate directly with people more often than retweeting. Once you start dropping your friend's usernames into this tab it's addicting (and satisfyingly stalkerish) to see the "way" people communicate, and who they communicate with most often.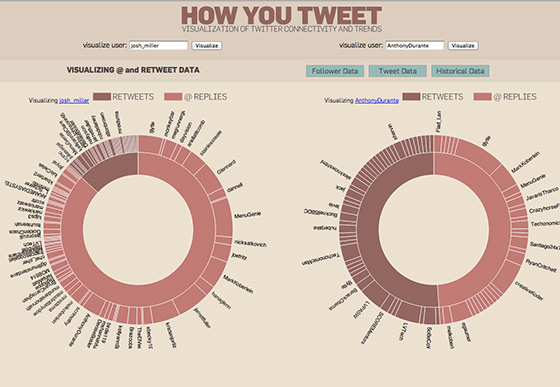 The final tab, Historical Data, visualizes when we most often communicate. As I'll describe below, the app pulls your last 400-600 tweets, so there's a fairly large dataset of day/times.  The graph quickly shows trends in when you tweet, and how often.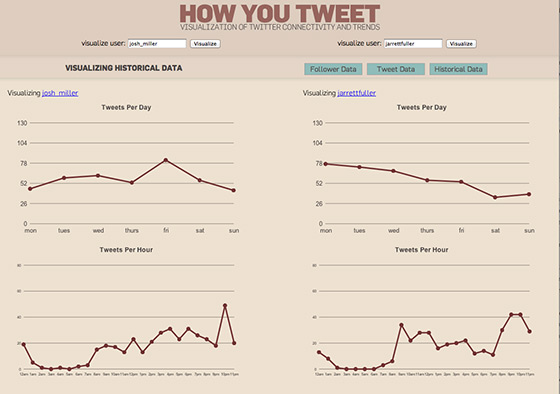 Some "how it work" details are covered in a recent blog post.
Twitterviz is (was) a web application that visualizes and analyzes your twitter stream data.  You can also compare your trends to another twitter user in three different categories. Due to changes in the twitter api, it is no longer possible to use this webapp.